Our purpose is to promote, encourage, and increase the knowledge, appreciation, and practice of the arts in Butler County, Nebraska, and surrounding area. We serve the schools with our residency program.
Board Members
Michael Eldridge – Brainard, (President)
Principal of East Butler High School.
He was a soloist in the annual Christmas Concert and in the Artist Showcase.
Nancy Humlicek – Prague (Vice-President)
A vocal performance major in college, she has been a soloist in the Butler County Community Choir and for other events.
Mistyn Kozisek – David City, (Co-Secretary)
Elementary music teacher at David City and Bellwood. She also performs as a violinist.
Kathy Dvorak – Brainard, (Co-Secretary)
Has been secretary at St. Mary's Rectory and a strong supporter of the arts.
Vickie Hines – Brainard, (Treasurer)
K-8 music teacher at East Butler Public Schools. She is a musician who is active in the community
Jarod Ockander – David City
English and speech teacher at David City High School. He writes and di¬rects the Summer Youth Theater.
Joe Bechtel – David City
Retired health care provider. He is also a volunteer at Bone Creek Museum.
Larry Griffiths – David City
Retired English teacher. He creates the BCAC season brochure and organizes the spin art booth at the county fair.
Vern Dvorak – Brainard
Retired insurance claims adjuster who plays baritone and sings with local musi¬cians.
Sandra Sutton – Rising City
Active supporter of the arts and longtime member of the BCAC.
Anna Nolan (Covault) – David City
Volunteer administrator, grant writer, and membership chairperson for BCAC. She actively partners the arts council with Bone Creek Museum of Agrarian Art.
Sponsors
Grand Benefactors
Bank of the Valley, Cornerstone Bank of Rising City, Moravec Financial Advisors, Inc., Aquinas & St. Mary's Catholic Schools, David City Public Schools, East Butler Public Schools.
Grant Sources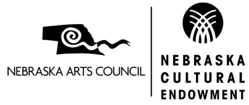 The arts council season is made possible thanks to donations from many sources. The Nebraska Arts Council, a state agency, supports this season through its matching grants program funded by the Nebraska Legislature, the National Endowment for the Arts and the Nebraska Cultural Endowment. Visit www.nebraskaartscouncil.org for information on how the Nebraska Arts Council can assist your organization, or how you can support the Nebraska Cultural Endowment. 
These and other programs to come this season under the Butler County Arts Council would not be possible without major grants from a number of sources including the Butler County Area Foundation Fund.
Corporate Sponsors
The Banner~Press, Bierbower Law Office, Butler County Clinic, P.C., Butler County Health Care Center, Butler County Landfill, Inc., Chermok Funeral Home, Dale's Food Pride, David Place, Eberle Insurance Agency – STATE FARM, Egr, Birkel and Wollmer, P.C., First National Bank – David City, First Nebraska Bank – Brainard Branch,  Kracl Funeral Chapel, Rehmer Auto Parts, Inc., St. Joseph's Villa and Court Inc., St. Luke's United Methodist Church [in-kind giving], and Union Bank & Trust-David City.